"Off road" Moto Guzzi, the small twins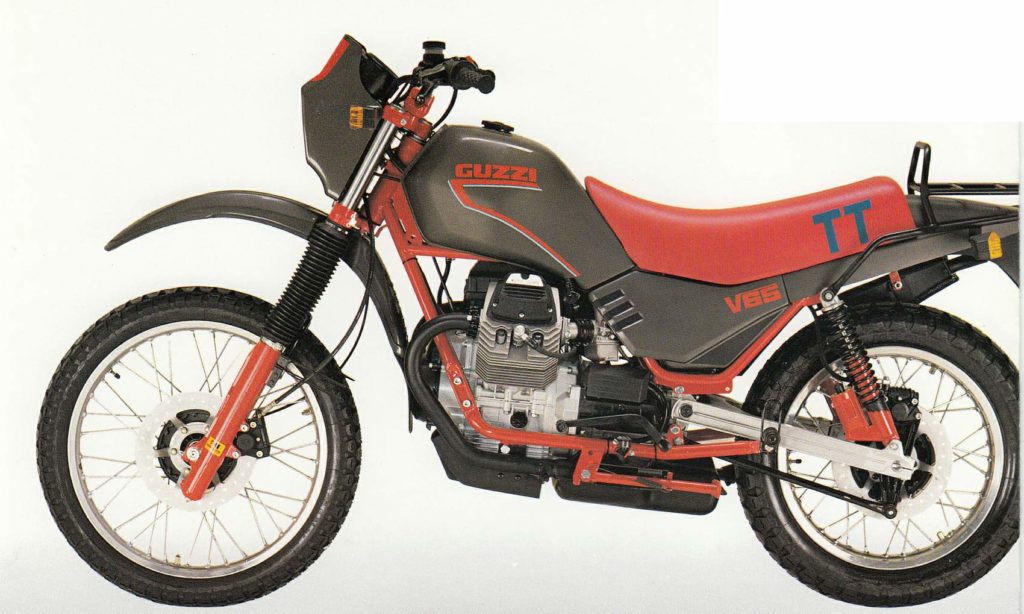 Until the 1980s there was no other model to replace the successful trial-cross (enduro) orientated Stornello.
The model that was built between 1950-60.
It all started again after French riders attempt on Paris-Dakar with custom made V 50 and later V 65 , later known as Baja model.
In 1984 the 350 and 650 TT   (TuttoTerreno)  Moto Guzzi's answer to GS 80 and some Japanese larger, single cylinder cross-enduro bikes.
The bikes appear from the Mandello factor with 21 front and 18 rear golden Acront alloy rims, high front nylon fender and 14 lit fuel tank….
This was to become a more street enduro and a dual purpose bike since it is too heavy for serious off road use.
After few years a decision was made that TT required some cosmetic changes. In 1987 NTX (Nuovo Tipo Cross) was born.
The 32l fuel tank was huge improvement, better suspension and some other improvements were added.
It maintained a 350 and 650 engine until 1989 when the 750 cc engine was introduced.
This engine had better torque, a front Brembo calliper with 4 pistons replacing the two piston units on the 350 and 650 models.
Production continued until 2001, the last two years as 750 XPA for police use with smaller wheels.
TT and NTX in original condition have become hard to find.                              (thanks to Zuppi and David !)
powered by MyBB - theme by Nick
thanks to Pippo and all our friends